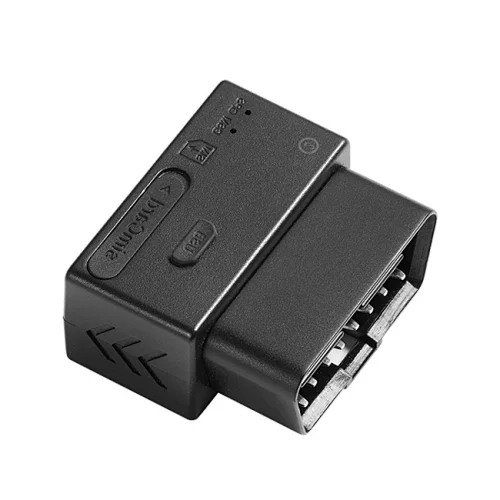 2G Basic OBD GPS Tracker
OTRACK-2 is a basic 2G OBD GPS tracker with solid GPS tracking capability and connectivity.

It is widely used in car rental, fleet management, and logistics.

OTRACK-2 with standard OBD connector for installation.

it can support real-time tracking and basic driving behavior
Product Description
The BSJ Technology OBD GPS tracking device is the perfect solution for businesses looking to efficiently track their vehicles. With its easy-to-install plug-in design, this device can be quickly and easily connected to your vehicle's OBD port, providing real-time GPS tracking data to efficiently manage your fleet.
This OBD GPS tracker offers a comprehensive range of features, including location tracking, route optimization, and driver behavior monitoring. With these capabilities, businesses can optimize their fleet management, reduce fuel costs, and improve overall productivity.
With the BSJ Technology OBD GPS tracker, businesses can also ensure the safety of their drivers and vehicles. In the event of an accident or emergency, this device can quickly and accurately pinpoint the location of the vehicle, allowing for a quick and effective response.
The BSJ Technology OBD GPS tracker is also a cost-effective solution for vehicle tracking, with no additional hardware or installation costs required. It's a versatile device that can be used across a range of industries, including transportation, logistics, and delivery services.
Investing in the BSJ Technology OBD GPS tracker is a smart choice for any business looking to streamline their vehicle tracking operations and optimize their fleet management.
Product Features
Real-time Tracking

Upload the longitude and latitude information according to the time interval

Upload Blind Data

The device will store location data in the network blind area, and upload this data when the GSM signal is good.

Inflection Data Upload

When the direction angle of the device changes by more than a certain angle, one location data will be uploaded immediately to optimize the trajectory.

Plug Out Alarm

When the device is plugged out, it will send an alarm automatically

Basic Driving Behavior Monitoring

Support to upload rapid acceleration alarm, rapid deceleration alarm, and sharp turns alarm to server.

SMS Query

Send "WHERE#" through SMS or platform to get latitude and longitude, current time, speed, ACC status, and Google Maps link.

Over-speed Alarm

Set the maximum speed limit value on the platform or SMS, when the GPS speed is more than the value, the device will upload an alarm to the server 

Standard OBD Connector

Suitable for various models of cars in the market, easy to installation and Plug and play
Product Specification
GPS

GPS Channels
22 Channels For Tracking, 66 Channels For Acquisition
GPS Frequency
1575.42±2MHz

GPS Ceramic Antenna
 
18*18*4MM
Tracking Sensitivity
-160dBm
Acquisition Sensitivity
-147dBm
GSM

Communication System
GSM
Band
850/900/1800/1900MHz

GPRS
 
Class 12, TCP/IP
Maximum Output Power
GSM850/GSM900:32.5±2dBm, GSM1800/GSM1900:30±2dBm
Receiving Sensitivity
ClassII RBER2%(-103dBm)

Communication Antenna
 
Built-in FPC Antenna 29.6*24.3*0.12(±0.2MM)
Other

Antenna
Built-in GPS ceramic antenna, built-in communication FPC antenna
LED Indicator
GPS: Yellow; GSM: Red
Standby Battery
0.5 hours (3.7V/55mAh lithium battery)
Working Voltage
DC 9V - 36 V

Working Current
 
25mA @12V(static current 10mA)

Dimension
 
L45mm*W39mm*H22mm

Connector
 
Standard OBD

OTA
 
Support to update firmware version remotely
Motion Sensor

DA213
 
The OBD GPS tracker from BSJ Technology is an ideal solution for businesses looking to streamline their vehicle tracking and management processes. By simply plugging the device into the OBD port of their vehicles, businesses can easily monitor their fleet in real-time, tracking location, speed, and other important metrics.
This plug-in GPS tracker is particularly useful for companies in the transportation, logistics, and delivery industries, allowing them to optimize their routes and reduce fuel costs. Additionally, the OBD GPS Tracker can be used by individual vehicle owners to monitor the driving behavior of their family members and ensure their safety on the road.
The OBD GPS tracking device is also commonly used in the rental car industry, helping rental car companies to keep track of their vehicles and prevent theft. By quickly locating missing rental vehicles and monitoring their usage, businesses can protect their assets and optimize their operations.
Overall, the BSJ Technology OBD GPS tracker is a versatile and reliable device that can be used in a variety of applications, providing businesses and individuals with an easy-to-use and cost-effective solution for tracking their vehicles.