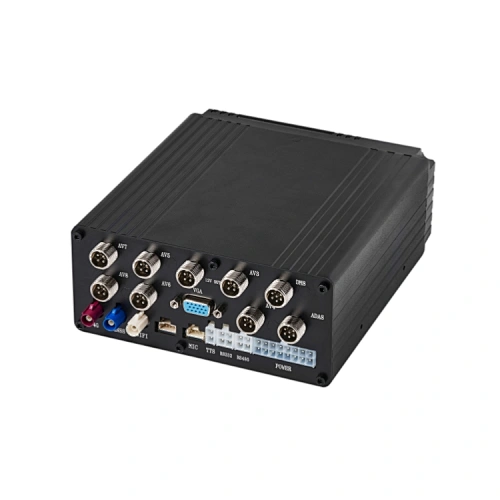 4G Vehicle Video Monitoring Terminal
ED08R Vehicle video monitoring terminal integrates 4G communication, GNSS positioning, ADAS, and DMS.

It supports 8 channels of audio and video recording, SD and hard disk card storage, and driving data recording.

Widely used in taxis, online hailing, minivans, construction vehicles, and other industries.
Product Features

HD Video

Support 8 channels of AHD 720P or 1080P video real-time storage and upload.

Driving Behavior Monitoring

Advanced Driver Assistance (ADAS) + Driver Behavior Monitoring (DMS)

Real-time Tracking

Upload the longitude and latitude information according to the time interval

Upload Blind Data

The device will store location data in the network blind area, and upload this data when the GSM signal is good.

Upload Inflection Data

When the direction angle of the device changes by more than a certain angle, one location data will be uploaded immediately to optimize the trajectory.

VGA Video Output

Support 1 channel of VGA video output, external 7-inch VGA screen for real-time video live broadcast.

 

RS232 & RS485 Interface

RS232 interface supports connecting to fuel sensors, advertising screens, broadcast stations, etc. RS485 interface supports connecting to the load sensor and other peripherals. 

SD &HD Storage

 

Support 1PCS of SD card or 2.5 inch hard drive cyclic storage 

Voice intercom/Listen-in

Support two-way communication and real-time voice monitoring of the car

Panic Button

Press the stop button to immediately trigger an emergency alarm and report to the platform.
Specification                                                                                                                                                                                                              
Other

Operating system

Linux

Microprocessor

4-core A7

Cache

8GB

Memory

1GB

Communication module

EC200A


Sensor
 
3-axis G-sensor

Video

8-channel AHD720P/8-channel AHD1080P

1-channel of VGA

Audio

7-channel audio(Format:PCM), AV3-AV8, pickup

2-channel audio(Format:PCM), speaker and AI Reminder speaker

Video and audio compression format

Video H.264, Audio g711A

Image resolution

720P(1280*720)or 1080P(1920*1080)


Communication network
 

2G/3G/4G

LTE FDD: B1/3/5/8

LTE TDD: B34/38/39/40/41

WCDMA: B1/5/8

GSM: 900/1800MHz

Storage

Single SD Card(Maximum supports 256G)

1 hard drive, the capacity can be expanded up to 2TB


Working voltage
 

DC 9-36V


Working current
 

600mA@12V,300mA@24V