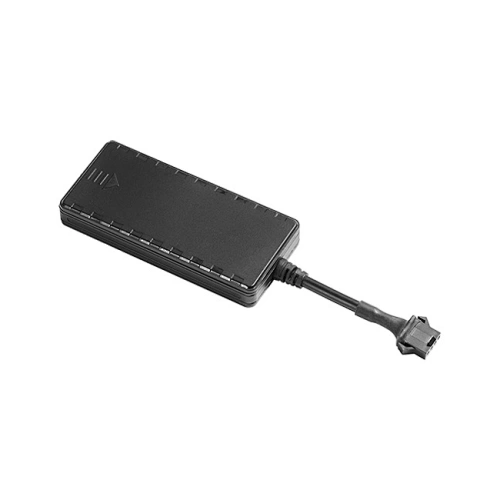 4G CAT.1 Wired Vehicle GPS tracker
KG-08-SA is a 4G CAT.1 Vehicle GPS tracker with solid GPS tracking capability and connectivity.

It is widely used in car rental, fleet management, and logistics. KG-08-SA is easy for hidden installation.

It supports remote power cutoff to protect your vehicle at all times.
Product Description
Introducing the BSJ Technology car tracker, the ultimate solution for vehicle tracking and security. Our basic car tracker is designed with advanced GPS technology to provide real-time location tracking of your vehicle, giving you peace of mind and added security.
With the BSJ Technology car tracker, you can track the location of your vehicle at any time, from anywhere in the world, using our user-friendly online platform. Our GPS car tracker also features geofencing capabilities, allowing you to set up virtual boundaries around specific areas and receive alerts when your vehicle enters or exits those areas.
In addition to location tracking, our car tracker provides valuable insights into vehicle usage, including driving behavior, fuel consumption, and maintenance needs. This data can be used to optimize vehicle performance and reduce costs over time.
At BSJ Technology, we understand the importance of reliable and secure tracking technology. That's why our car tracker is built with high-quality materials and backed by a team of experts who are dedicated to providing exceptional customer support.
Don't settle for basic vehicle tracking. Choose the BSJ Technology car tracker for advanced GPS technology, valuable insights, and unmatched security.
Product Features
Real-time Tracking

Upload the longitude and latitude information according to the time interval

Upload Blind Data

The device will store location data in the network blind area, and upload this data when the GSM signal is good.

Upload Inflection Data

When the direction angle of the device changes by more than a certain angle, one location data will be uploaded immediately to optimize the trajectory.

Power Off Alarm

Turn on the backup battery, when the vehicle voltage is lower than 5v, the device uploads an alarm to the server

Remote Upgrade

The device supports updating firmware versions remotely.
Over-speed Alarm
Set the maximum speed limit value through the platform or SMS command. When the GPS speed exceeds the set value, the device will upload an alarm to the server

Basic Driving Behavior Monitoring

Support uploading rapid acceleration alarm, rapid deceleration alarm, sharp turns alarm, collision alarm, and vibration alarm to the server

SMS Query

Send "WHERE#" through SMS or platform to get latitude and longitude, current time, speed, ACC status, and Google Maps link.

Ignition Detection

Uploaded location data with the ignition (ACC on/off) status each time

Fuel Cut Off

Cut off/supply fuel remotely through server or SMS
Product Specification
GPS

GPS Channels

22 Channels For Tracking, 66 Channels For Acquisition

GPS Frequency

GPS Frequency: 1575.42±2MHz;BD Frequency: 1561.098±2MHz




GPS Ceramic Antenna


 

25*25*2MM

Tracking Sensitivity

-165dBm

Acquisition Sensitivity

-148dBm

 

 

UC6226NIS
GSM

Communication System

TDD-LTE/FDD-LTE/GSM

Band

FDD-LTE:B1、B2、B3、B4、B5、B7、B8、B20、B28、B28A(optional)

Maximum Output Power

GSM900 Class433±2dBm,GSM1800 Class130±2dBm
LTE FDD: 23±2dBm, LTE TDD: 23±2dBm

Receiving Sensitivity

GSM: (-109dBm);LTE FDD: (-98dBm);LTE TDD:  (-98dBm)




Communication Antenna


 

Built-in FPC Antenna 50.8*8.4*0.12(±0.2MM)

 

 

UIS8910
Other

Antenna

Built-in GPS ceramic antenna, built-in communication FPC antenna

LED Indicator

GPS: Yellow; GSM: Red

Standby Battery

10Min (3.7V/55mAh lithium battery)

Working Voltage

DC 9V - 90 V




Working Current


 

45mA@12V (Static Current 6mA)




Dimension


 

84mm*38mm*12mm




Power Cable


 

4 Pin (Power+, GND, ACC, Fuel)
GPS car trackers are becoming increasingly popular and have a wide range of applications in today's world. Here are some common scenarios where car trackers are used:
  1. Vehicle theft prevention - GPS car tracker is commonly used to prevent car theft by monitoring the location of the vehicle in real-time.
  2. Fleet management - GPS car tracker is used to track a company's fleet of vehicles, ensuring that they are being used efficiently and effectively.
  3. Insurance - Some insurance companies offer discounts for vehicles equipped with GPS car trackers as it reduces the risk of theft and helps to recover stolen vehicles.
  4.  Asset tracking - GPS car tracker can be used to track the location of valuable assets, such as trailers, shipping containers, and construction equipment.
  5. Personal safety - GPS car tracker can be used to track the location of loved ones or elderly family members, ensuring their safety and well-being.
Overall, GPS car trackers offer a range of benefits and have numerous applications in various fields, providing peace of mind and improved security for individuals and businesses alike.